Guidance for parents over the Christmas holidays
As outlined in the government guidance issued on December 8th, SLT will be on call to deal with track and trace up to Wednesday 23rd December if your child tests positive for Covid. The same processes apply as outlined in the headteacher letter (dated 4th December, which you can find here) regarding the information we need and how to get in touch with us after the end of term should you need to.
Please note that beyond this date, there will be no need to get in touch to alert us to any positive cases in your household as outlined by the Department for Education: "We are clear that beyond 6 days after the final day of teaching, school and further education staff are not asked to play a role in any contact tracing."
If your child tests positive for Covid between Friday 18th December and Wednesday 23rd December, please email either LHSCovidReporting@longbenton.org.uk or the headteacher directly at kho@longbenton.org.uk so that we can initiate track and trace protocols and identify any close contacts.
We will need to know the following information if you do need to get in touch:
Date of first symptoms (we will need to look at where your child was in school in the 48 hours prior to symptoms starting)

Date of test

Date of positive test result
Covid Winter Grant / Free School Meals Christmas 2020
The DfE informed schools at the end of November that this is now the responsibility of the local authority, not schools directly. North Tyneside Council's participation team should be the first point of contact for any queries regarding the winter grant / free school meal vouchers at participation@northtyneside.gov.uk
Below you will find:
- a letter from North Tyneside explaining the winter grant
- FAQs guide for families in receipt of the winter grant / free school meals vouchers
- Edenred's user guide which explains how to access e-vouchers
Free School Meals
You will be aware that from December 2nd, North Tyneside and our school are in Tier 3. The summary details of this guidance are here: https://assets.publishing.service.gov.uk/government/uploads/system/uploads/attachment_data/file/937563/COVID-19_Tier_3_Very_High_Poster.pdf
The following links from the Parents Guide To... provide some useful links to make reference to over the Christmas period.
Click here to view this newsletter online with access to download links and resources.
Teens and Christmas bubbles (applies to all teenagers)
Special rules regarding socialising apply from 23-27 December allowing up to three households to get together and celebrate the holiday. Everyone across the UK should abide by these rules as they are the law. For teens whose parents are separated an exception applies: they can be part of each of their parents' different Christmas bubbles and spend time with both families.
Full details of the Government's guidance is here.
Looking back on 2020 and looking forward to 2021 (applies to all teenagers)
For many teens, 2020 has been an extremely disappointing year in a number of ways. Worse still, the prospects for 2021 being better don't look imminently promising. This can have a very negative effect on their wellbeing and mental health. We can't change the situation, but we can change the way we look at it. Parents might find our article on "reframing" 2020 useful – it sets out how to help teens identify and focus on the positive parts of 2020, enabling them to increase their mental resilience.
A powerful way to improve your child's mental health - free download
25 days to improved wellbeing (applies to all teenagers)
In case you missed our 50-day wellbeing challenge, we've created a 25-day version to inspire students to think about their mental and physical wellbeing through to Christmas. Great to do either at home or at school.
25 days to improved wellbeing – holiday edition – free download
Teens and entrepreneurship (applies to all teenagers)
Given social restrictions, most teens have extra time at the moment. The holidays could prove a great time for them to experiment with starting their own business – if they haven't already! We've outlined some things that might be interesting to them and given parents indicators on how pursuing these interests can help their children develop 12 key soft skills interviewers are looking for, so could help set them up well for future job or further education applications.
Why starting a business now can help your teen develop the key 12 transferable skills - free download.
How parents can support their teens' studying at home (applies to Y10-Y13)
Schools may not be closed, but inevitably teens are missing out on yet more school time this year with extended holiday periods, reduced co-curricular activity and home isolating to protect them in the event of school Covid outbreaks. Students need to find effective ways of studying at home that suit them if they are going to achieve their potential within the 2020/2021 academic year. More than ever, they need parental support in providing an appropriate homelife to put them on the right track. Parents will find our guides, including five simple things they can do at home to make it the best possible environment to support their teen with their studies, essential reading.
The Parents' Guide to Study and Exam Revision for GCSEs
The Parents' Guide to Study and Exam Revision for sixth form
Preparing to apply to university (applies to Y13)
On 20 November, there was welcome news from the University of Birmingham (and subsequently some other universities) that they would reduce their entry requirements by one grade in recognition of the disruption Year 13 has faced during their sixth form studies.
With 15 January 2021 rapidly approaching, it's important students wishing to apply to university decide on their first and second choices, whether differing entry requirements may impact these choices, as well as finalising their personal statements over the holiday. Parents might find The Parents Guide to University helpful in supporting their children with these decisions and our free parent guide to personal statements and personal statement mind map are great step-by-step guides to ensure students include everything that helps them stand out from others in their personal statements.
Apprenticeships (applies to Y11 and Y13)
University isn't for everyone, and there are lots of fabulous opportunities through apprenticeship schemes. The Parents Guide to Apprenticeships gives detailed information about what's on offer, what qualifications can be achieved and the pros and cons of taking the apprenticeship route.
* Confirmed cases - Monday 23 November *
We have had five confirmed Covid cases reported to us at the weekend/on Monday morning: two in Year 7, one in Year 8, one in Year 9 and one in Year 11. All of the students identified as close contacts have been informed by phone and should also have received a school comms email today and a further formal letter by email confirming details.
As you can imagine, this has been a major task today involving a great deal of students across several year groups, so please bear with us if we have not managed to return a phone call or deal with a message promptly today.
Please note regarding the Year 8 case: there has been no action for us to take as a school as this student was already self-isolating in connection with another case and had not been in school last week.
To confirm:
- Year 7 students not affected as close contacts can return to school from tomorrow Tuesday 24th November
- Year 11 mock exams are continuing for those not affected as close contacts
- There are no 'closed' bubbles - we have not sent entire year groups home as the local public health team approach is to work on distance/proximity, which is why seating plans are so important (and why it takes time to identify everyone with 5 lessons to look at for each student across 2-3 days)
I appreciate that the number of cases here may cause you some concern but want to reassure you that we are satisfied that these are community transmission cases and have carried out a robust process today to identify the right students: talking to staff; double checking lists; looking at distances in classrooms again etc. We are doing our best to keep school open to everyone. Thank you as always for your patience, understanding and support.
Kelly Holbrook
Headteacher
Confirmed Covid case in Year 8 - Monday 9th November
We have had a positive Covid case confirmed to us today in Year 8. This has affected just under 30 Year 8 students who have been identified as close contacts. To clarify - the whole Year 8 year group has NOT been asked to self-isolate, just those students identified through seating plans and teacher/student information as close contacts. If your child has been identified as a close contact, we will have called you directly to confirm this. Formal letters confirming arrangements will be sent out tomorrow.
Temporary closure to Years 7 and 9 - week beginning 19th October
Due to the continued high staff absence we are currently experiencing, it is with regret that we will need to put in place some temporary home learning for other year groups this week. You may be aware that Year 8 worked from home for two days last week.
This week we have had to make the following decisions about home learning affecting these year groups:
Year 7 work from home on Tuesday 20th & Wednesday 21st October (returning to school on Thursday and Friday)
Year 9 work from home on Thursday 22nd & Friday 23rd October (returning to school after half term)
We would like to reassure parents that this staff absence is not all directly related to the cases in our school but is instead reflective of the high number of cases across our region, staff dealing with their own childcare issues, staff dealing with separate NHS track and trace alerts and non-Covid related absence/illness.
We appreciate that this will cause significant inconvenience to parents, but we have not taken this decision lightly. We have had to come to this decision due to the fact that staff absence affects our ability to open fully and operate safely to all year groups.
Thank you for your continued patience and support.
Home Learning Guidance for Parents - Updated October 2020
The DfE guidance for schools on remote/home learning is an ambition that students will have daily contact with teachers and that schools will use a range of tools to teach new material, set assignments and assess students. We are following DfE best guidance and practice at Longbenton High School
https://www.gov.uk/government/publications/remote-education-good-practice/remote-education-good-practice
https://www.gov.uk/government/publications/actions-for-schools-during-the-coronavirus-outbreak/guidance-for-full-opening-schools#res
Google classroom
Daily contact may be through online learning platforms, where students are able to submit work and questions and have them marked and answered by their teacher. At Longbenton High School, we deliver this contact through Google Classroom.
Online tools may include asynchronous resources, such as pre-recorded videos and explanations, worksheets and exercises. For our students, this means that they may be directed to the government-funded Oak National Academy curriculum, Seneca in Science, EverLearn in PE or MyMaths in Maths.
We know that many students report significant barriers to accessing remote learning. We are already working with families to identify those barriers and we are doing what we can to remove them. Where full online remote learning may not be fully achievable, there should be a parental expectation that students without access should be supported with printed resources.
The DfE direction places a legal duty on schools to provide remote learning only for students who are unable to attend school due to Covid. It does not legally apply to students who are absent for other reasons, including non-Covid related illness.
The next few weeks and months are likely to be even more challenging, with rising infection rates and the prospect of having to provide remote learning to more students. Thank you for your patience and support as we continue to build a system where continuity of curriculum happens as smoothly as possible.
Local North East Restrictions
18th September
You will be aware of the new local restrictions announced from Friday 18th September onwards across the seven LAs including North Tyneside (please see the FAQs guide below).
We already had a face mask requirement in place before local restrictions. The regulation for face coverings is clear: for Year 7 above they must be worn by staff, visitors and students when moving around in corridors and communal areas. This includes all middle, secondary and colleges in North Tyneside. Those individuals who are exempt do not have to wear face coverings. This is a mandated government instruction.
Please also see below guidance for parents on symptoms. We will work closely with you to agree self-isolation start and end points if your child or someone in your household is displaying symptoms. We are tracking this carefully for the safety of all of our staff and students.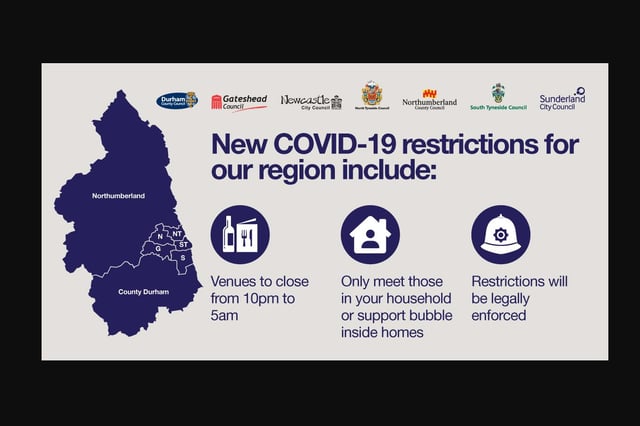 Students completing work if they are at home self-isolating
If your child has to stay at home because they are self-isolating with symptoms, are self-isolating as part of a household or they are at home due to close contact with a positive case, they will be set work to complete through Google Classroom www.classroom.google.com
When they sign in, they should be able to see classes they are allocated to.
If they have been given a class code, they need to click the + on the top right of the page to 'Join Class' and then enter the Class Code given to them by their teacher, before clicking join.
Covid Guidance, Advice and Support