Covid Information, Guidance & Support
* Confirmed cases - Monday 23 November *
We have had five confirmed Covid cases reported to us at the weekend/on Monday morning: two in Year 7, one in Year 8, one in Year 9 and one in Year 11. All of the students identified as close contacts have been informed by phone and should also have received a school comms email today and a further formal letter by email confirming details.
As you can imagine, this has been a major task today involving a great deal of students across several year groups, so please bear with us if we have not managed to return a phone call or deal with a message promptly today.
Please note regarding the Year 8 case: there has been no action for us to take as a school as this student was already self-isolating in connection with another case and had not been in school last week.
To confirm:
- Year 7 students not affected as close contacts can return to school from tomorrow Tuesday 24th November
- Year 11 mock exams are continuing for those not affected as close contacts
- There are no 'closed' bubbles - we have not sent entire year groups home as the local public health team approach is to work on distance/proximity, which is why seating plans are so important (and why it takes time to identify everyone with 5 lessons to look at for each student across 2-3 days)
I appreciate that the number of cases here may cause you some concern but want to reassure you that we are satisfied that these are community transmission cases and have carried out a robust process today to identify the right students: talking to staff; double checking lists; looking at distances in classrooms again etc. We are doing our best to keep school open to everyone. Thank you as always for your patience, understanding and support.
Kelly Holbrook
Headteacher
Confirmed Covid case in Year 8 - Monday 9th November
We have had a positive Covid case confirmed to us today in Year 8. This has affected just under 30 Year 8 students who have been identified as close contacts. To clarify - the whole Year 8 year group has NOT been asked to self-isolate, just those students identified through seating plans and teacher/student information as close contacts. If your child has been identified as a close contact, we will have called you directly to confirm this. Formal letters confirming arrangements will be sent out tomorrow.
Temporary closure to Years 7 and 9 - week beginning 19th October
Due to the continued high staff absence we are currently experiencing, it is with regret that we will need to put in place some temporary home learning for other year groups this week. You may be aware that Year 8 worked from home for two days last week.
This week we have had to make the following decisions about home learning affecting these year groups:
Year 7 work from home on Tuesday 20th & Wednesday 21st October (returning to school on Thursday and Friday)
Year 9 work from home on Thursday 22nd & Friday 23rd October (returning to school after half term)
We would like to reassure parents that this staff absence is not all directly related to the cases in our school but is instead reflective of the high number of cases across our region, staff dealing with their own childcare issues, staff dealing with separate NHS track and trace alerts and non-Covid related absence/illness.
We appreciate that this will cause significant inconvenience to parents, but we have not taken this decision lightly. We have had to come to this decision due to the fact that staff absence affects our ability to open fully and operate safely to all year groups.
Thank you for your continued patience and support.
Home Learning Guidance for Parents - Updated October 2020
The DfE guidance for schools on remote/home learning is an ambition that students will have daily contact with teachers and that schools will use a range of tools to teach new material, set assignments and assess students. We are following DfE best guidance and practice at Longbenton High School
https://www.gov.uk/government/publications/remote-education-good-practice/remote-education-good-practice
https://www.gov.uk/government/publications/actions-for-schools-during-the-coronavirus-outbreak/guidance-for-full-opening-schools#res
Google classroom
Daily contact may be through online learning platforms, where students are able to submit work and questions and have them marked and answered by their teacher. At Longbenton High School, we deliver this contact through Google Classroom.
Online tools may include asynchronous resources, such as pre-recorded videos and explanations, worksheets and exercises. For our students, this means that they may be directed to the government-funded Oak National Academy curriculum, Seneca in Science, EverLearn in PE or MyMaths in Maths.
We know that many students report significant barriers to accessing remote learning. We are already working with families to identify those barriers and we are doing what we can to remove them. Where full online remote learning may not be fully achievable, there should be a parental expectation that students without access should be supported with printed resources.
The DfE direction places a legal duty on schools to provide remote learning only for students who are unable to attend school due to Covid. It does not legally apply to students who are absent for other reasons, including non-Covid related illness.
The next few weeks and months are likely to be even more challenging, with rising infection rates and the prospect of having to provide remote learning to more students. Thank you for your patience and support as we continue to build a system where continuity of curriculum happens as smoothly as possible.
Local North East Restrictions
18th September
You will be aware of the new local restrictions announced from Friday 18th September onwards across the seven LAs including North Tyneside (please see the FAQs guide below).
We already had a face mask requirement in place before local restrictions. The regulation for face coverings is clear: for Year 7 above they must be worn by staff, visitors and students when moving around in corridors and communal areas. This includes all middle, secondary and colleges in North Tyneside. Those individuals who are exempt do not have to wear face coverings. This is a mandated government instruction.
Please also see below guidance for parents on symptoms. We will work closely with you to agree self-isolation start and end points if your child or someone in your household is displaying symptoms. We are tracking this carefully for the safety of all of our staff and students.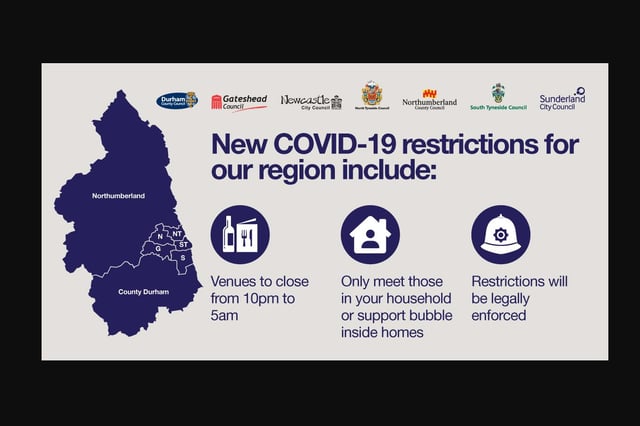 Students completing work if they are at home self-isolating
If your child has to stay at home because they are self-isolating with symptoms, are self-isolating as part of a household or they are at home due to close contact with a positive case, they will be set work to complete through Google Classroom www.classroom.google.com
When they sign in, they should be able to see classes they are allocated to.
If they have been given a class code, they need to click the + on the top right of the page to 'Join Class' and then enter the Class Code given to them by their teacher, before clicking join.
Covid Guidance, Advice and Support